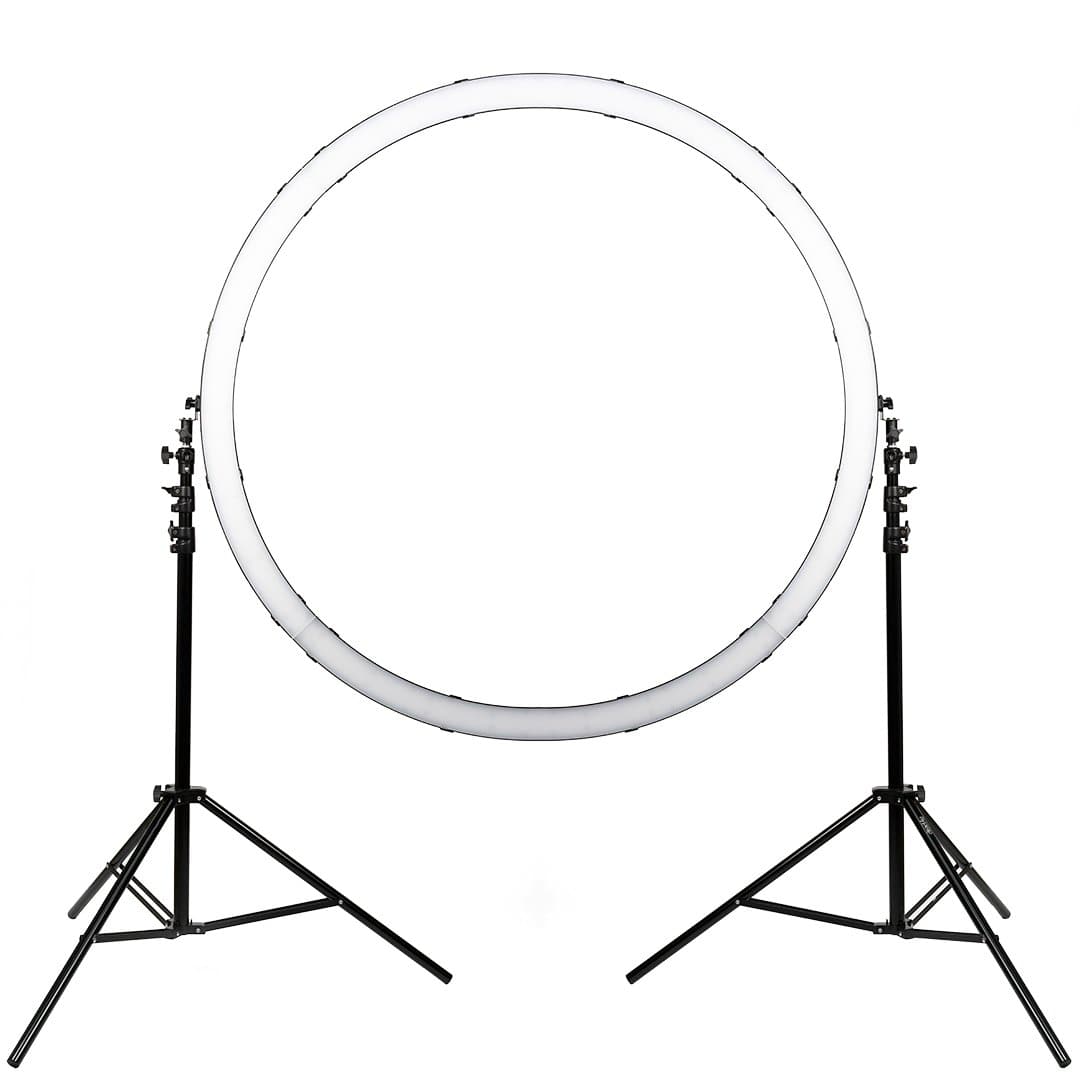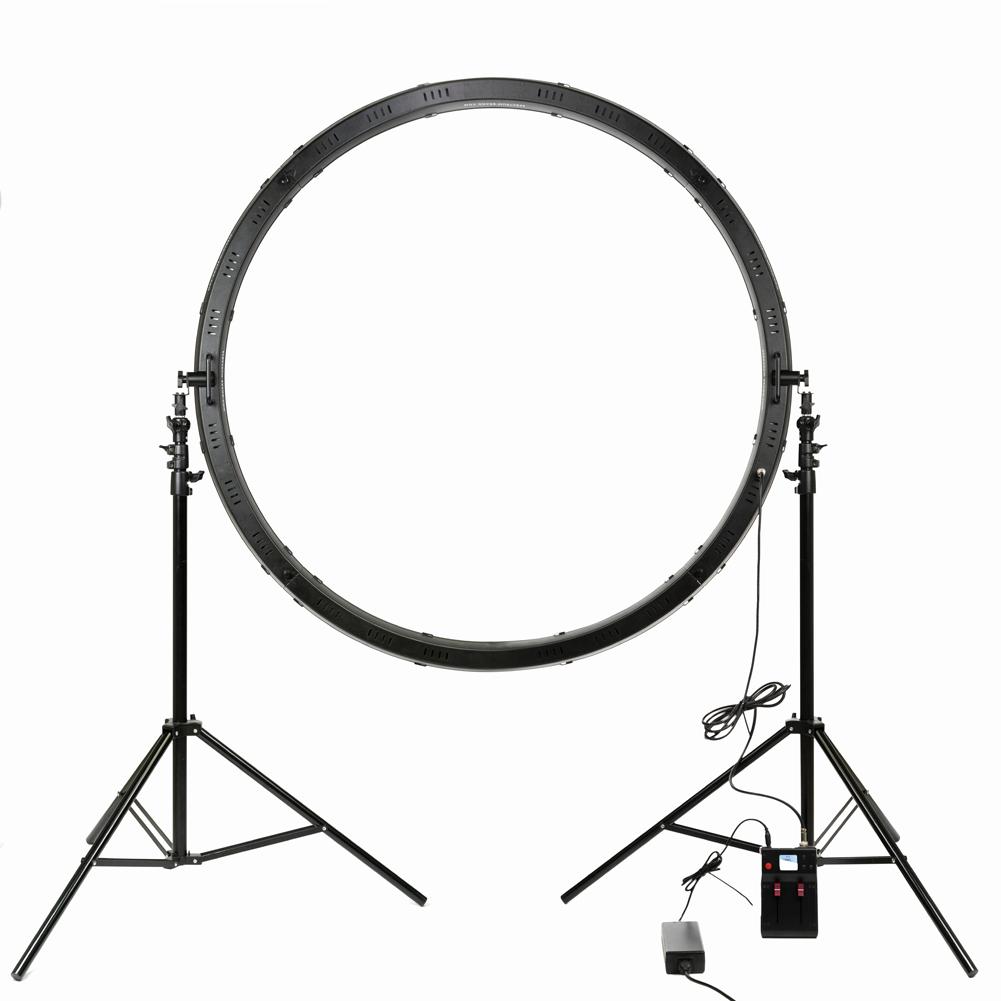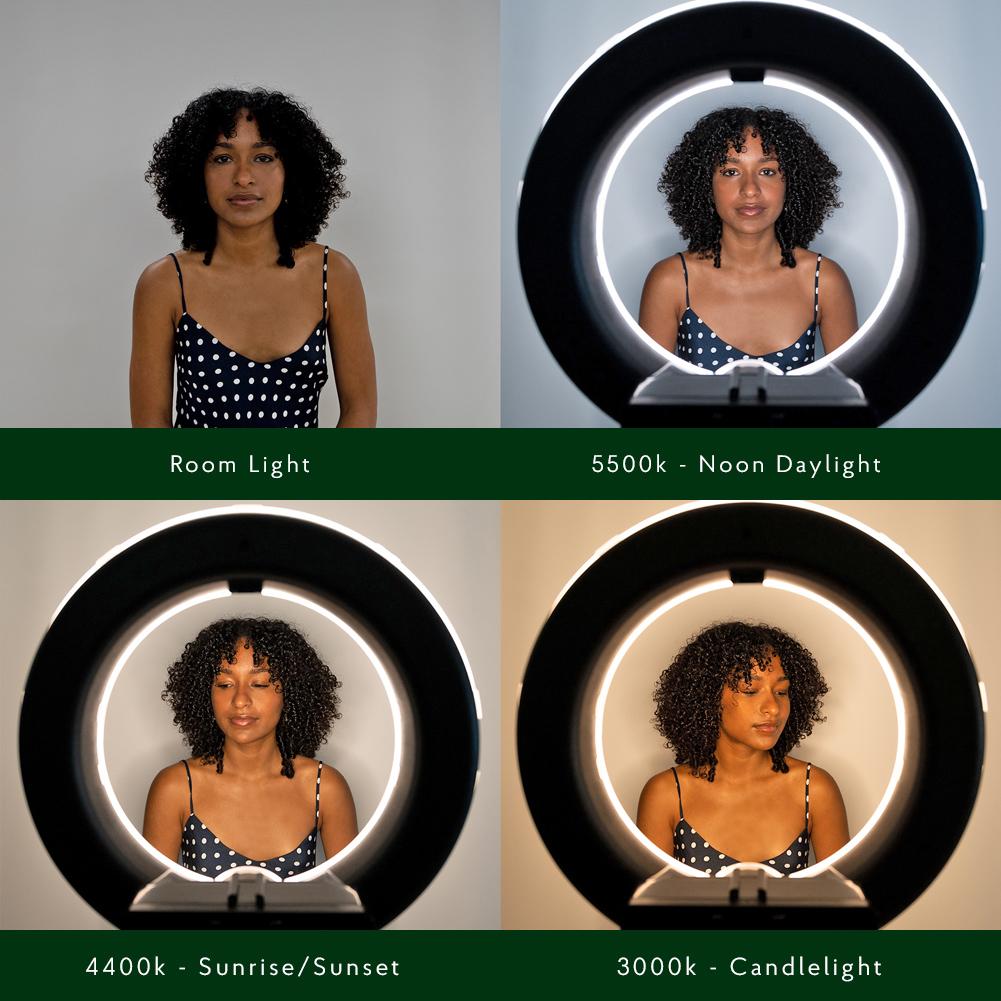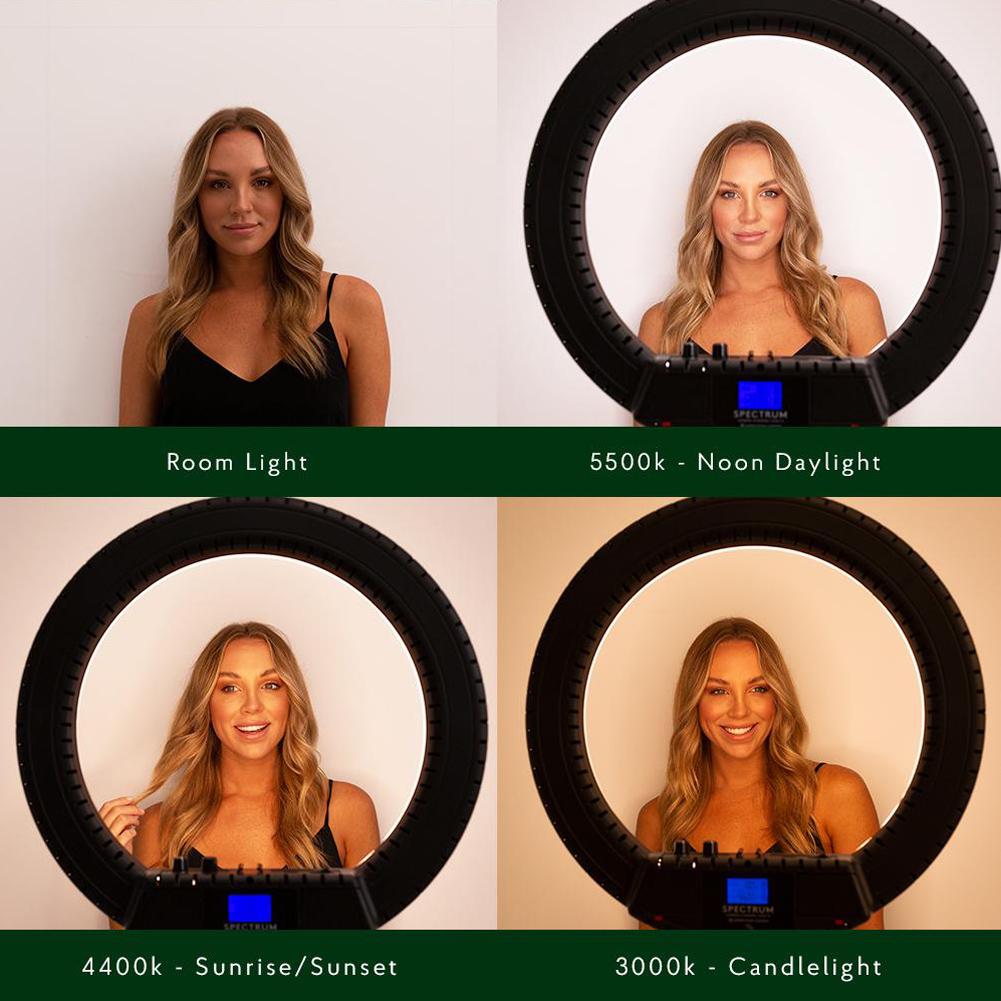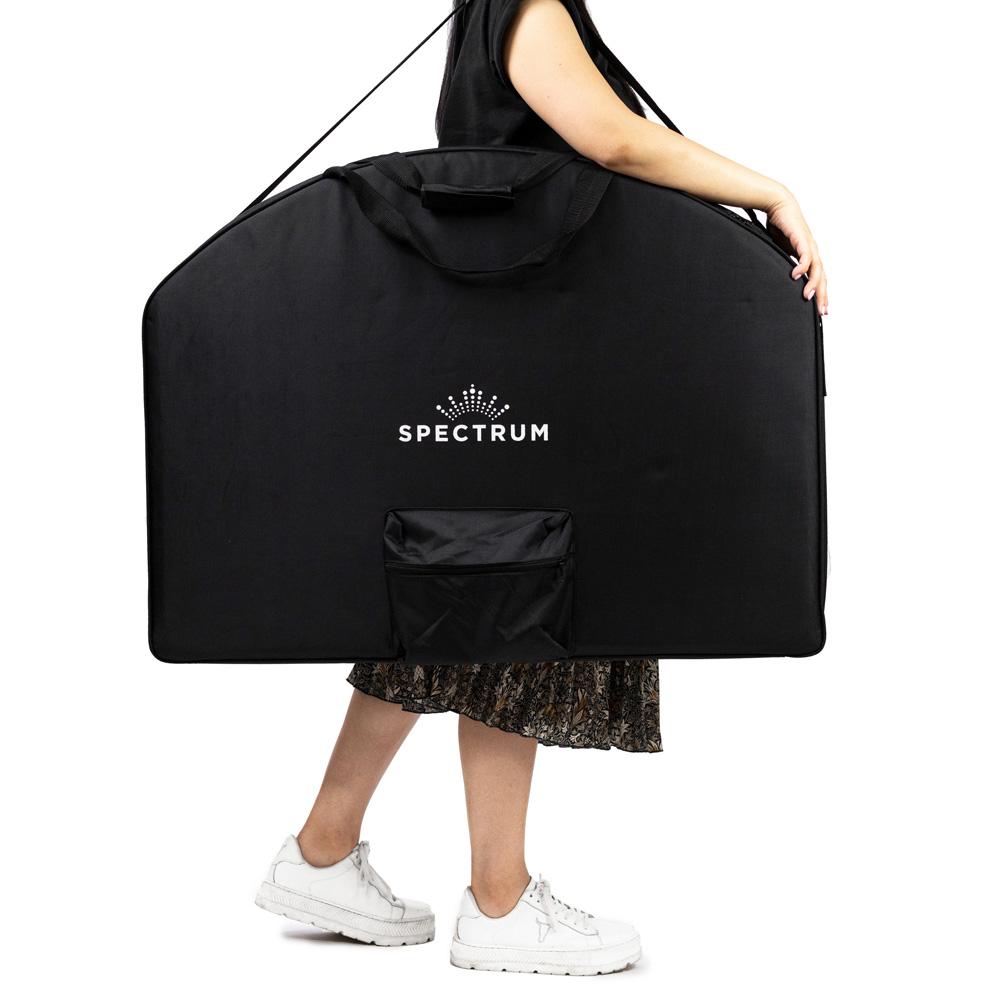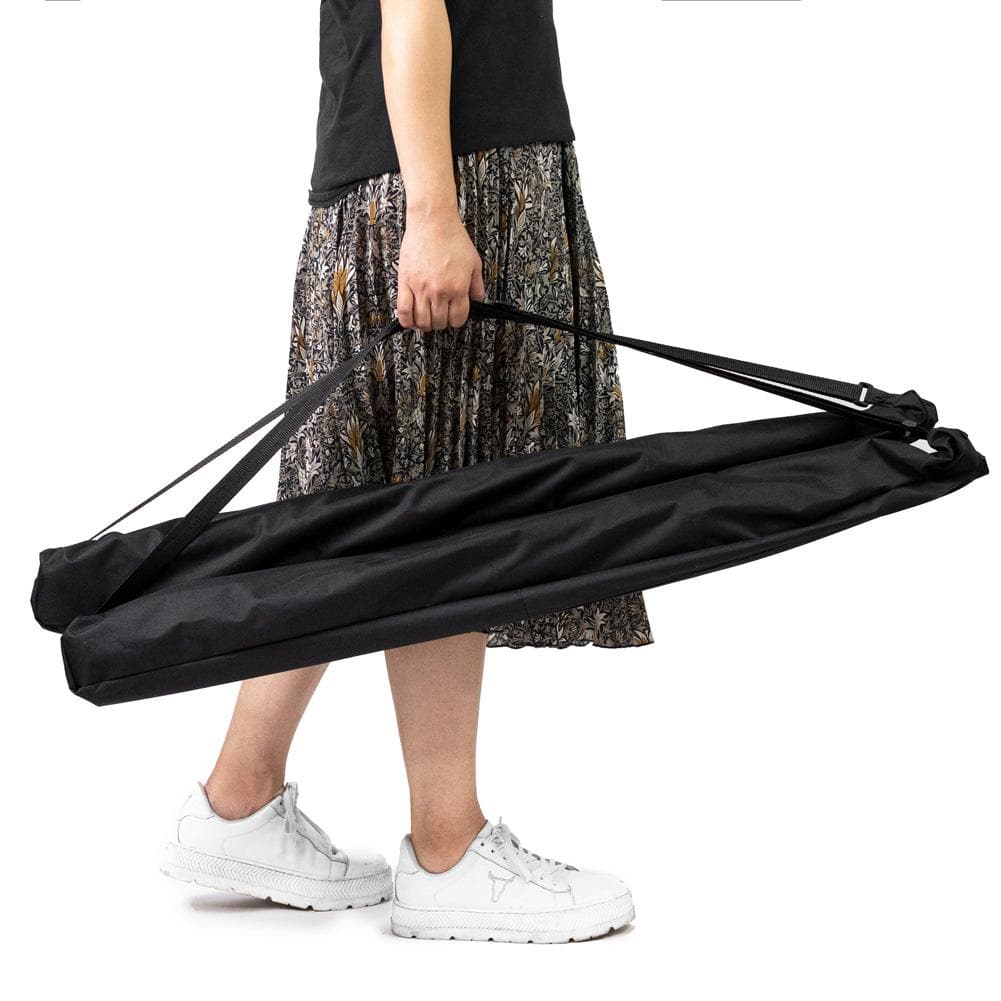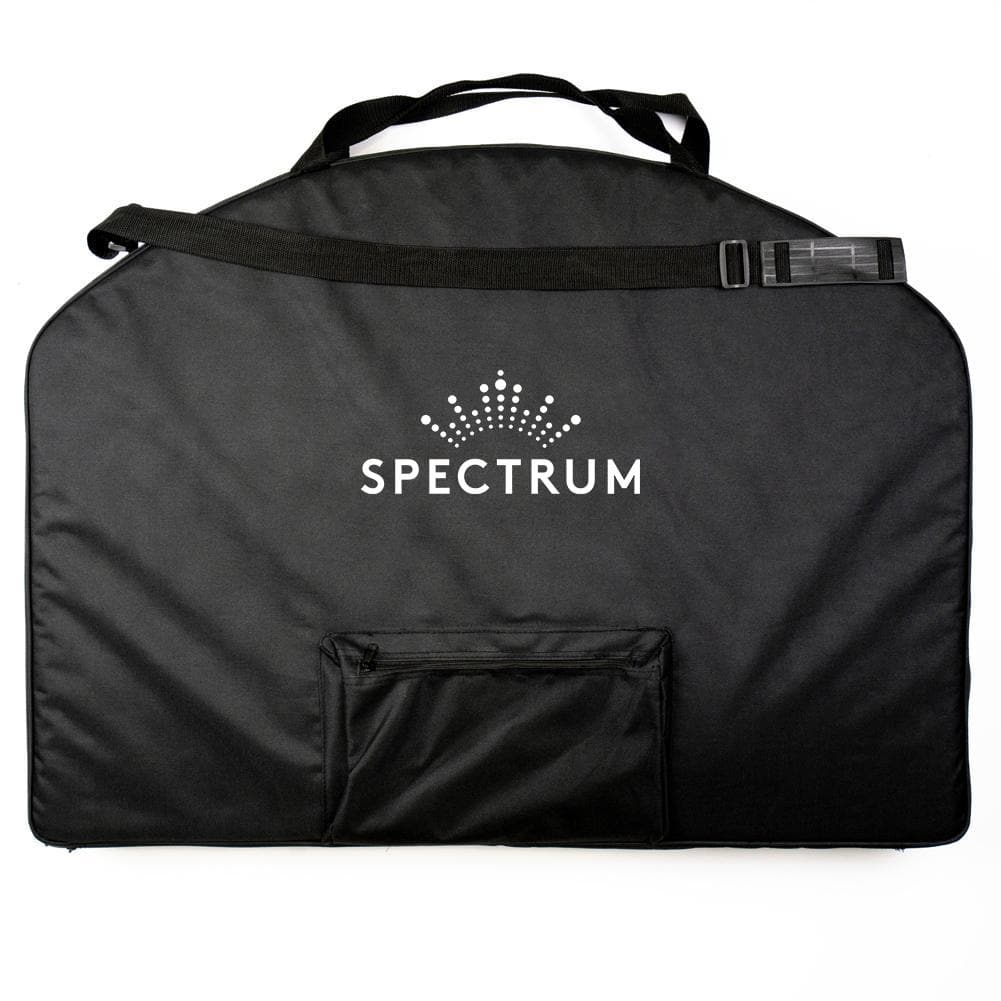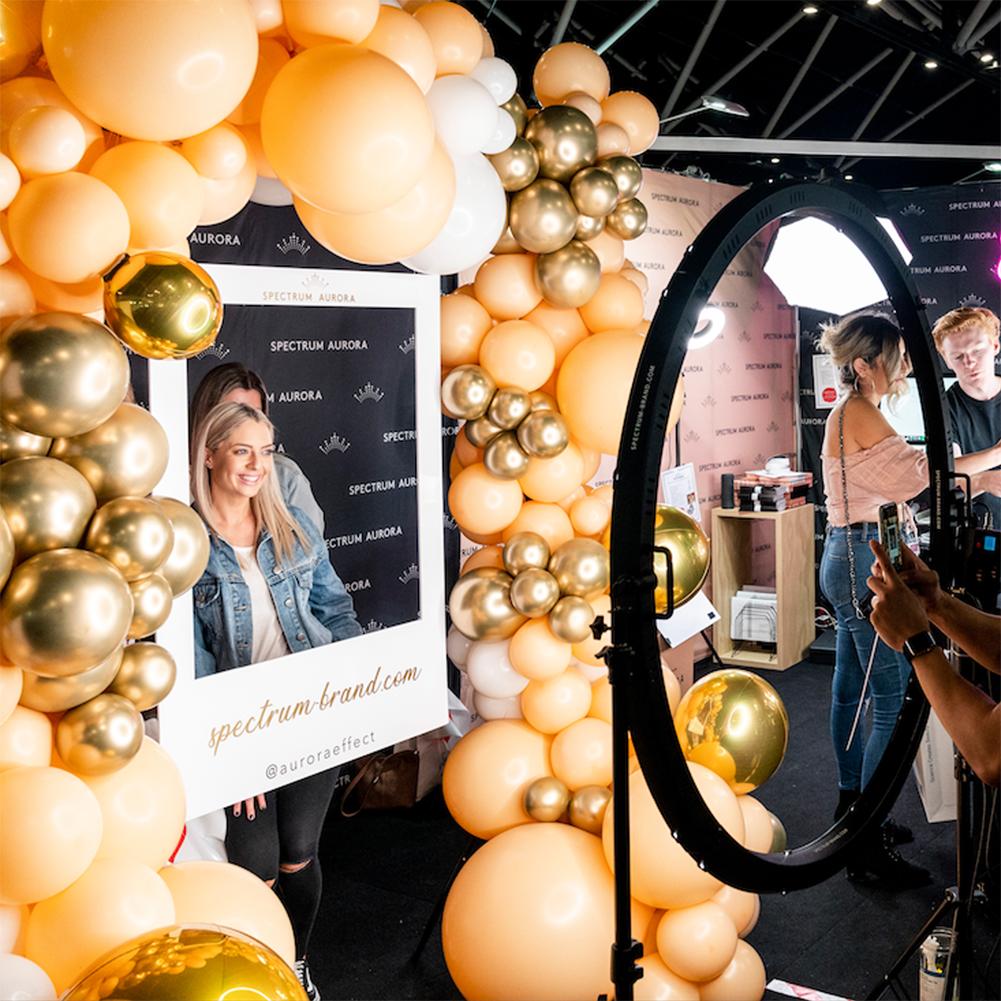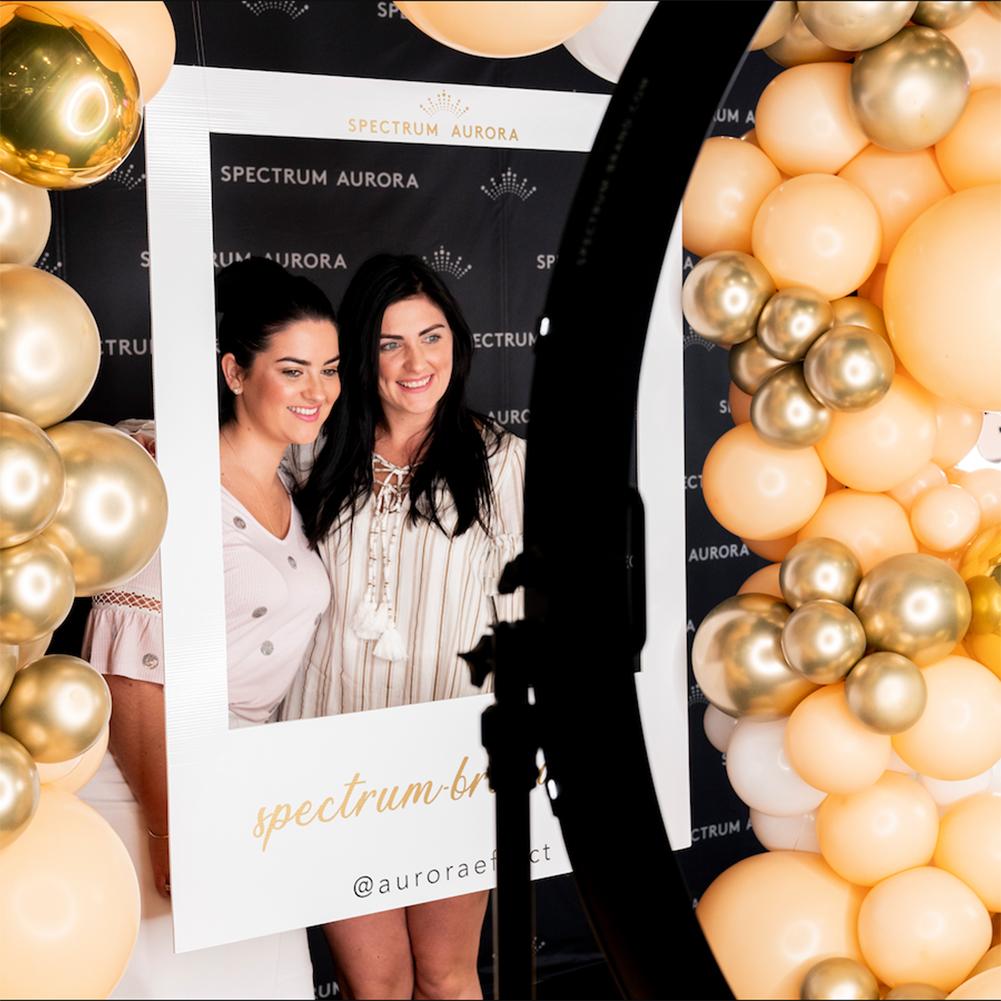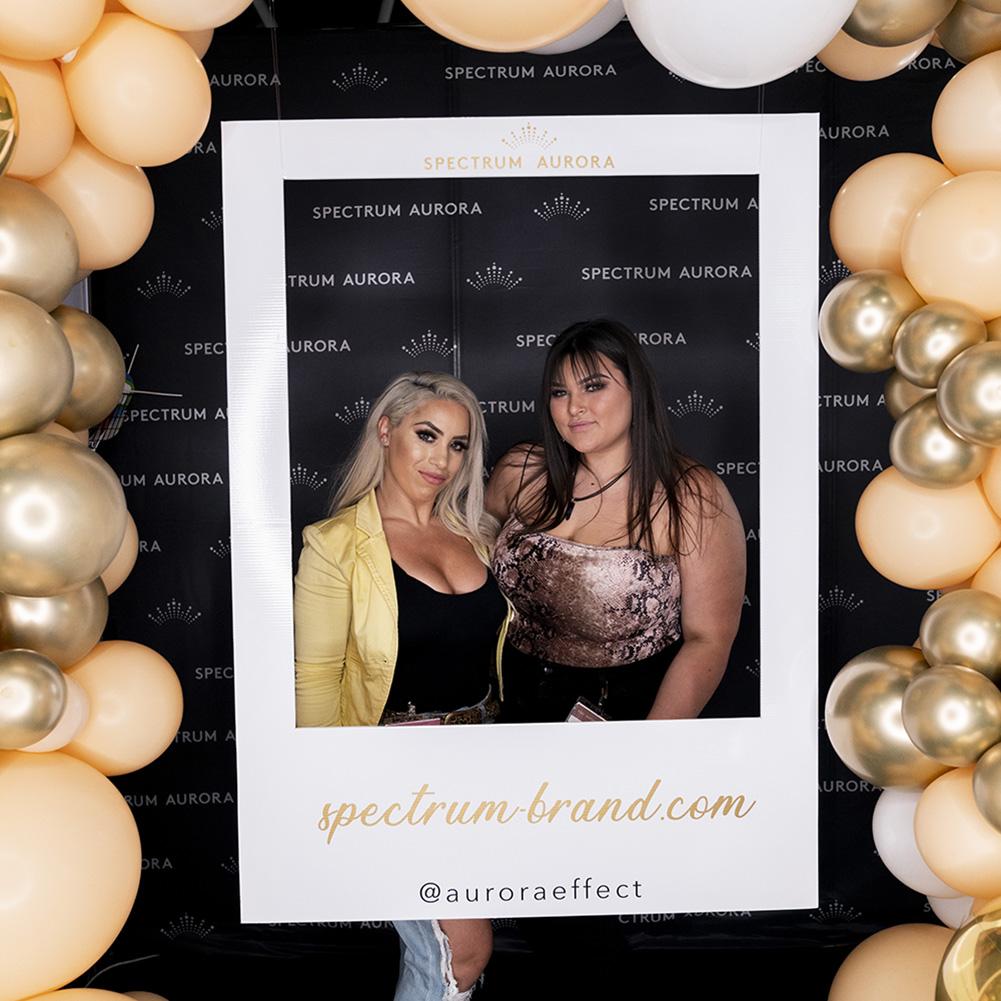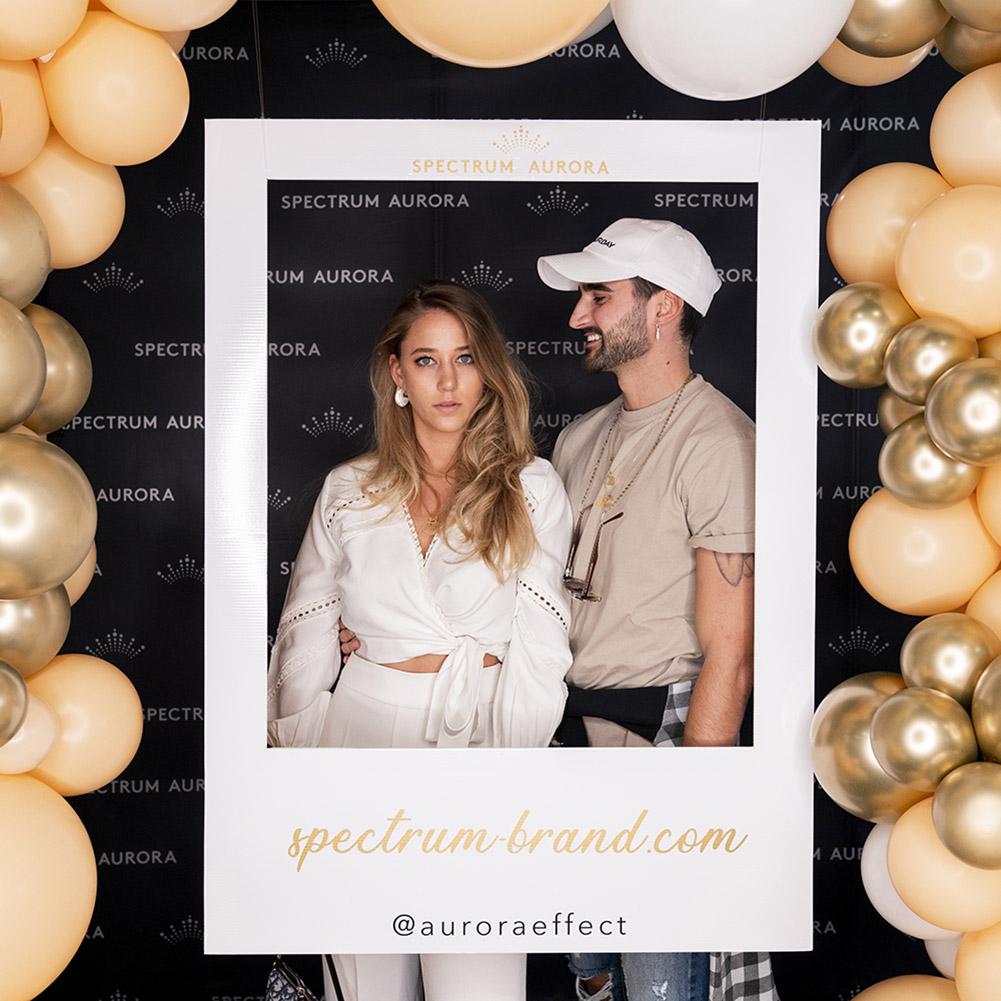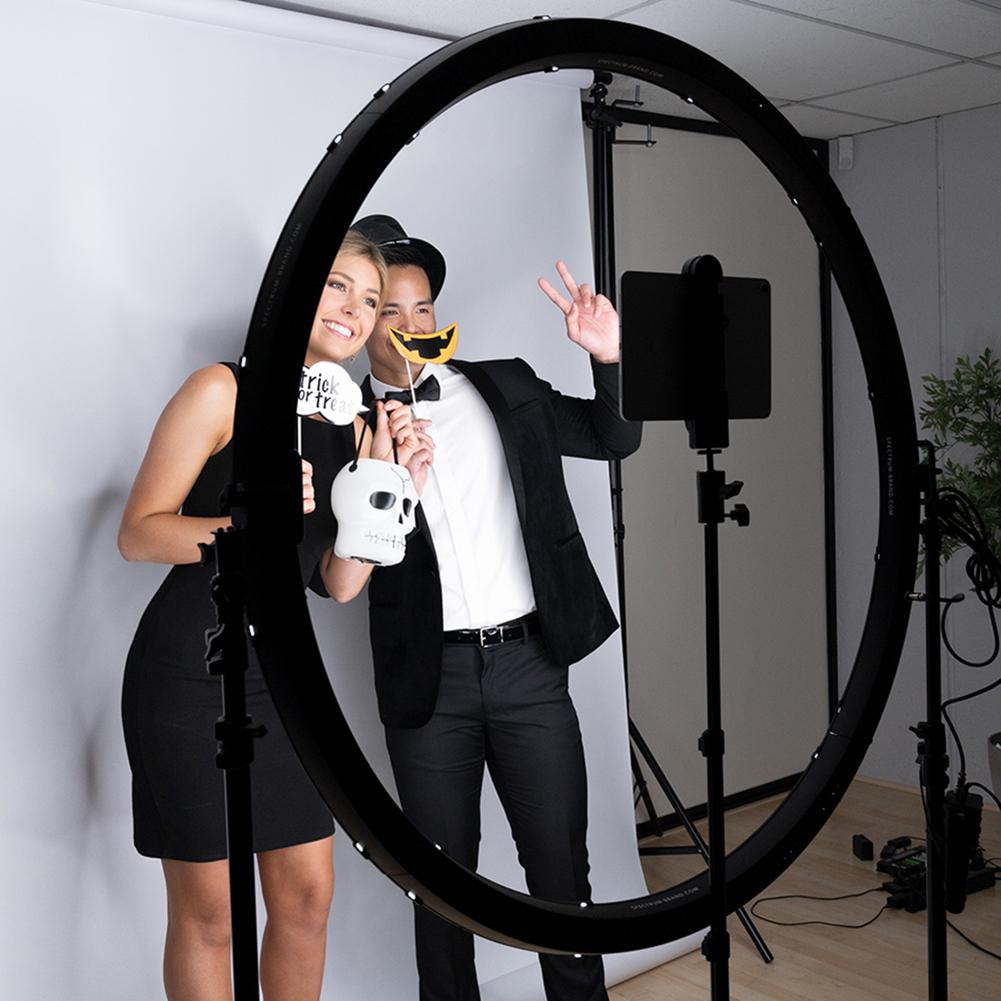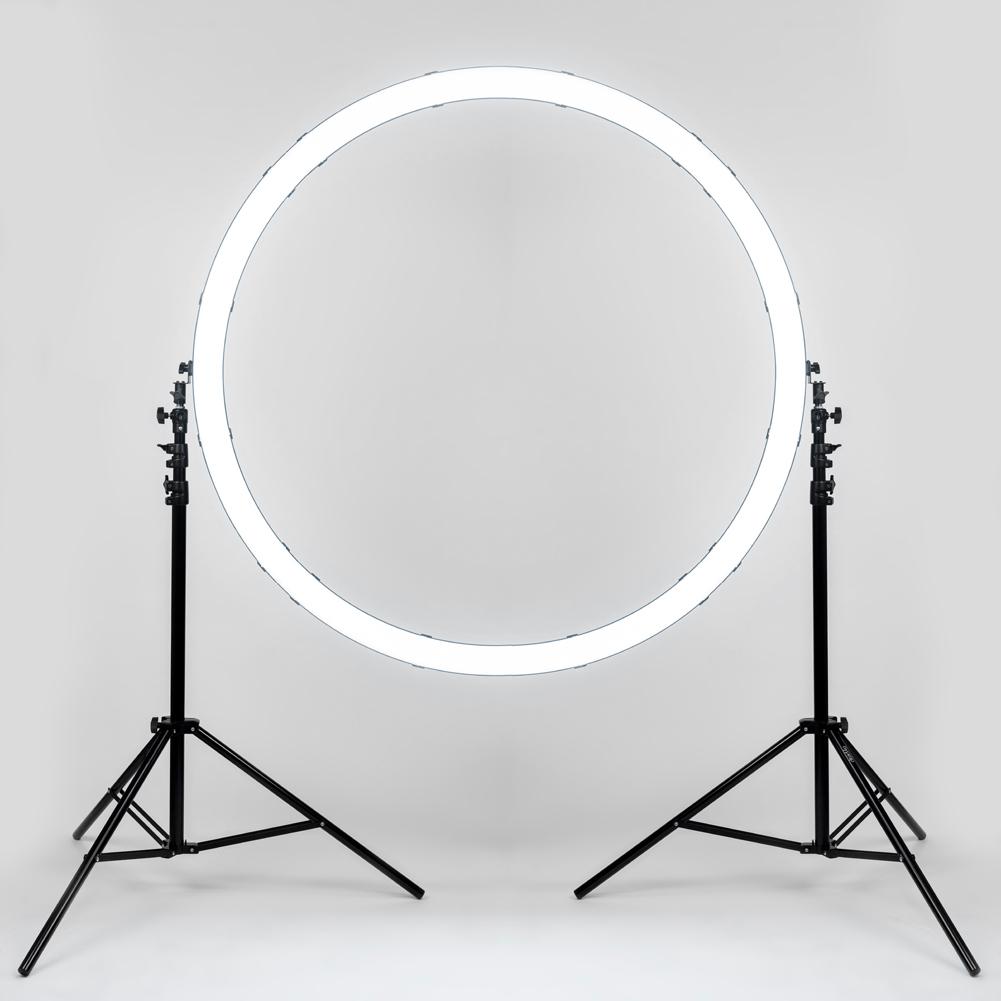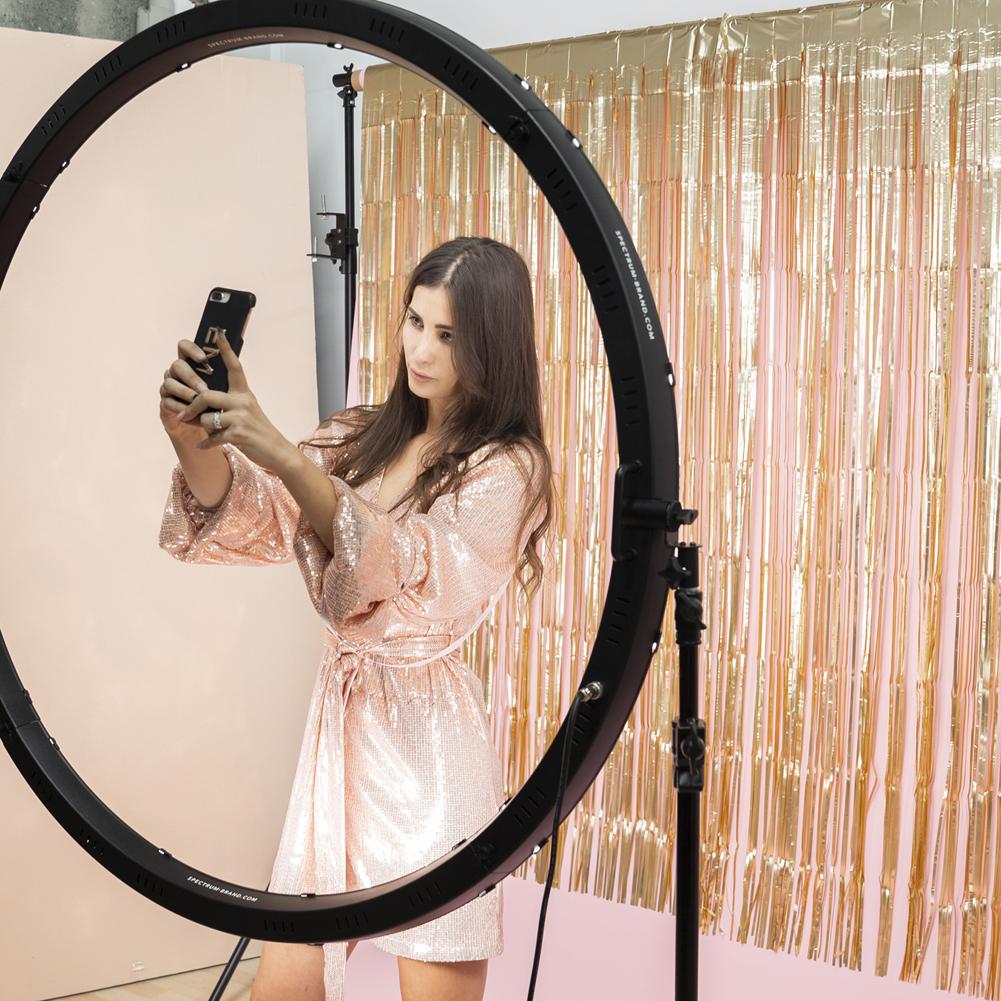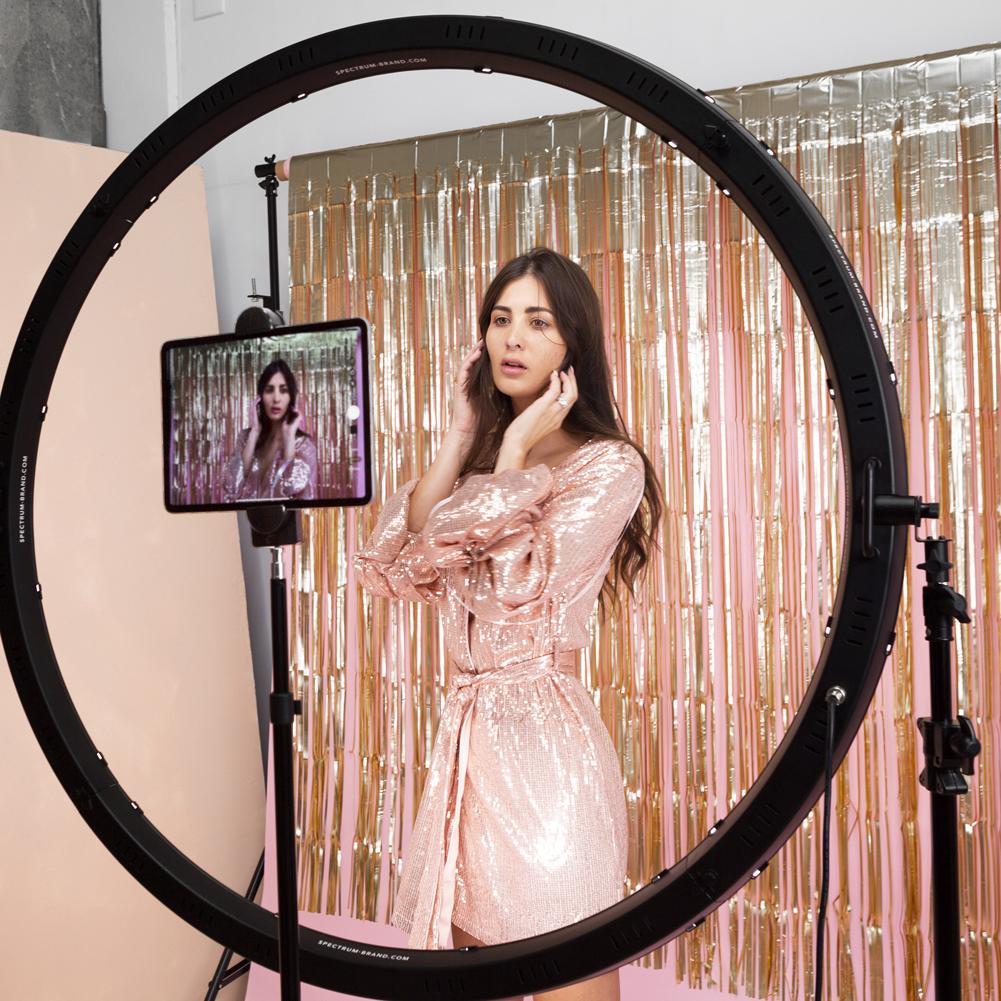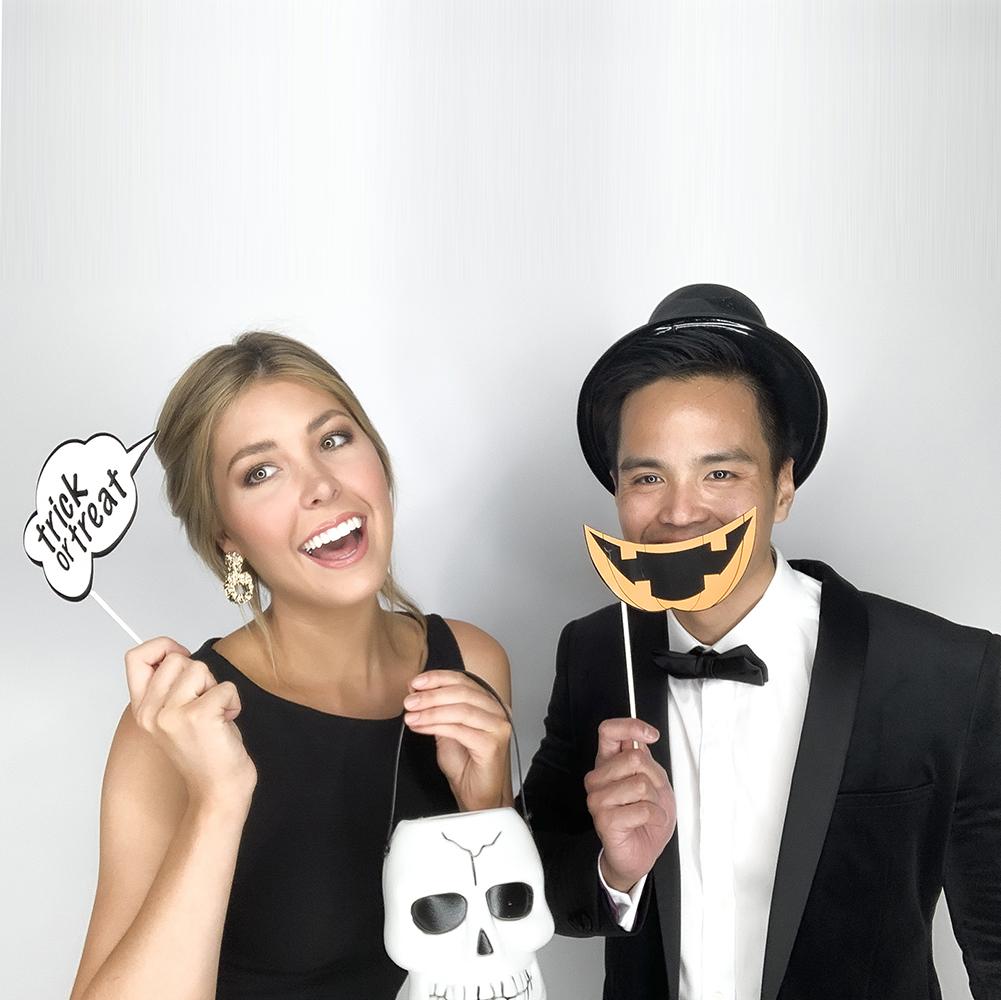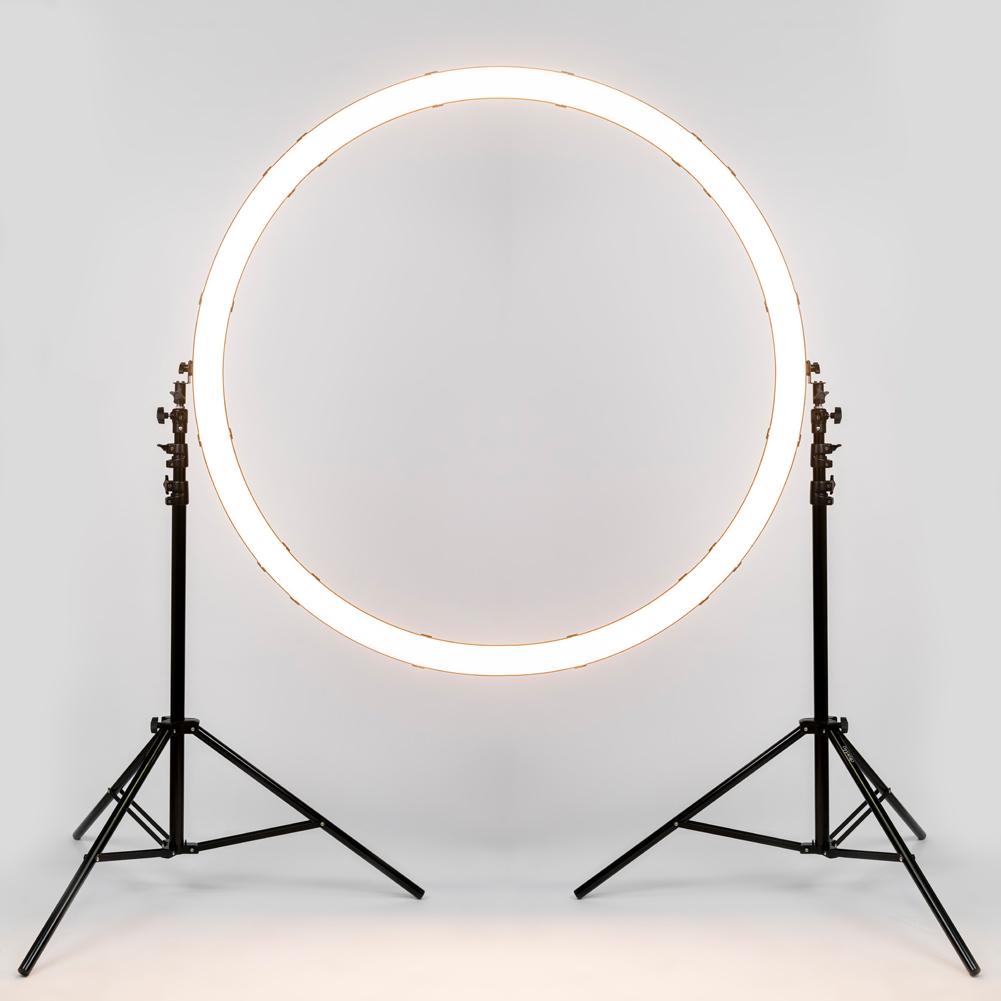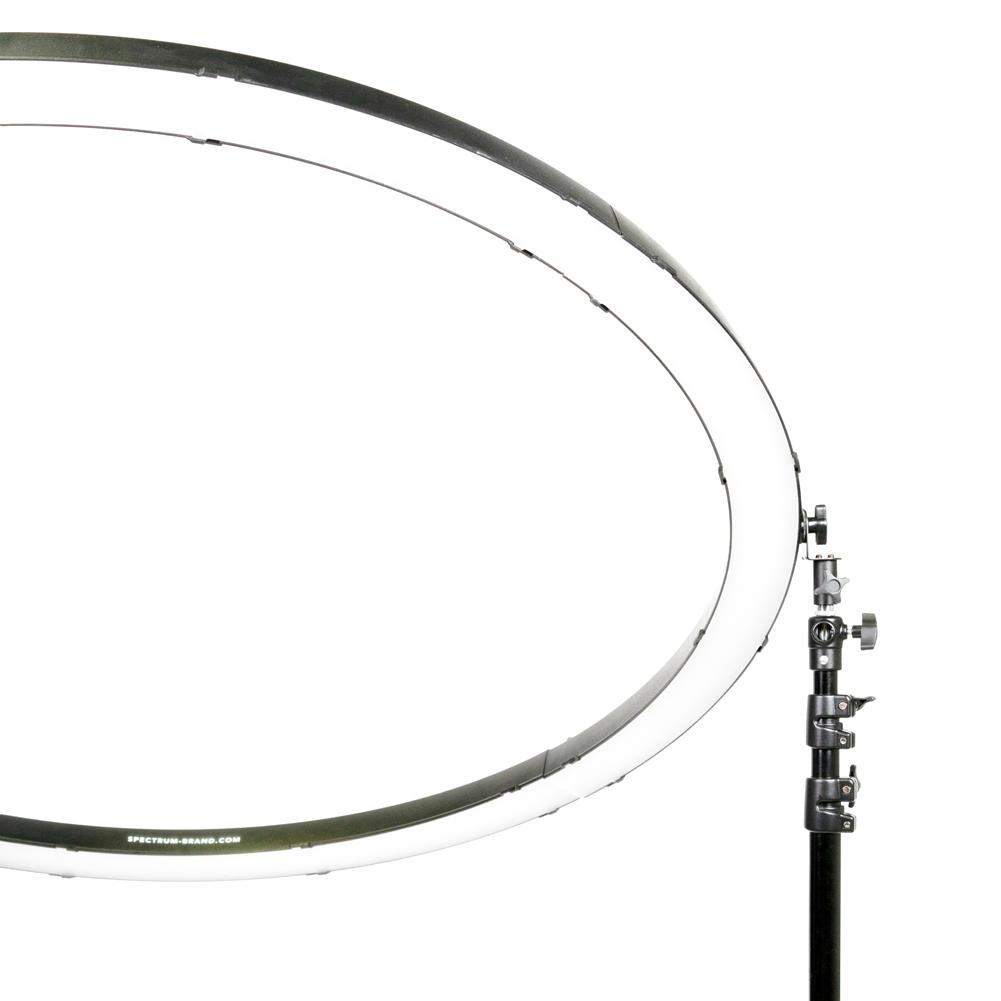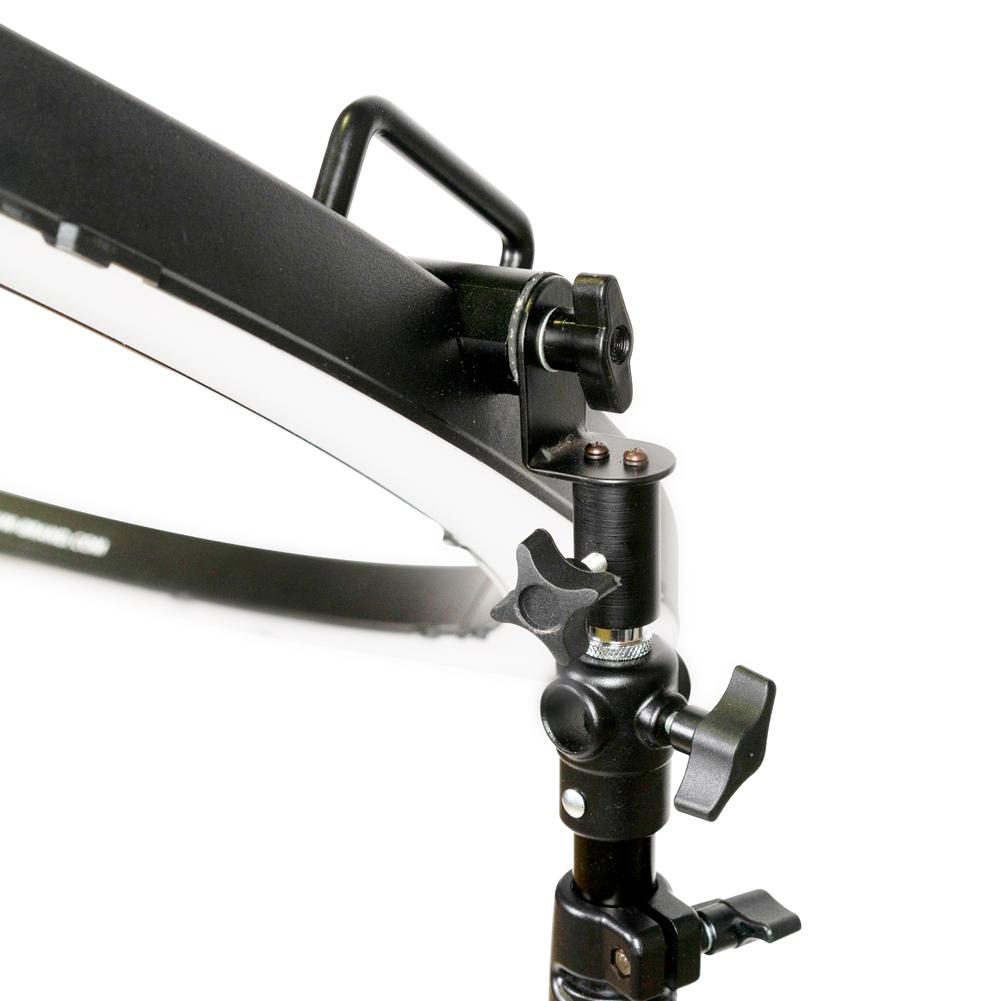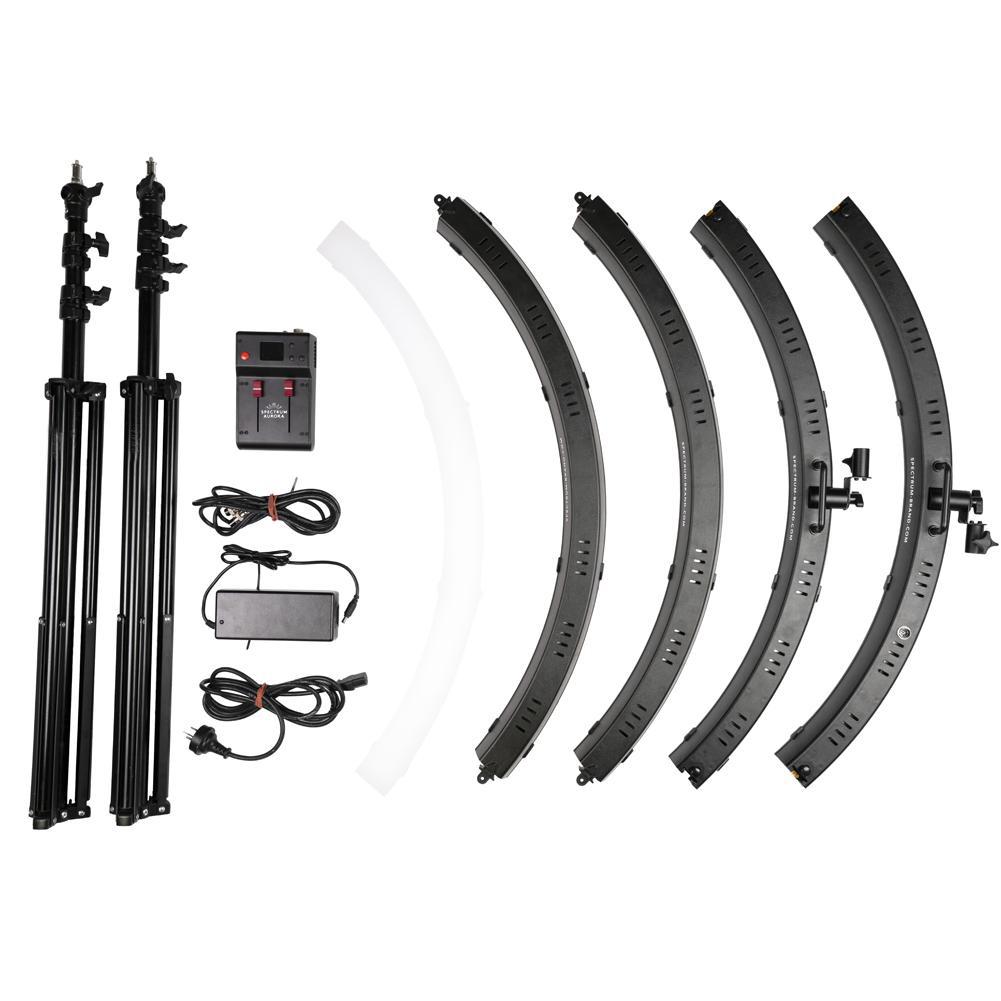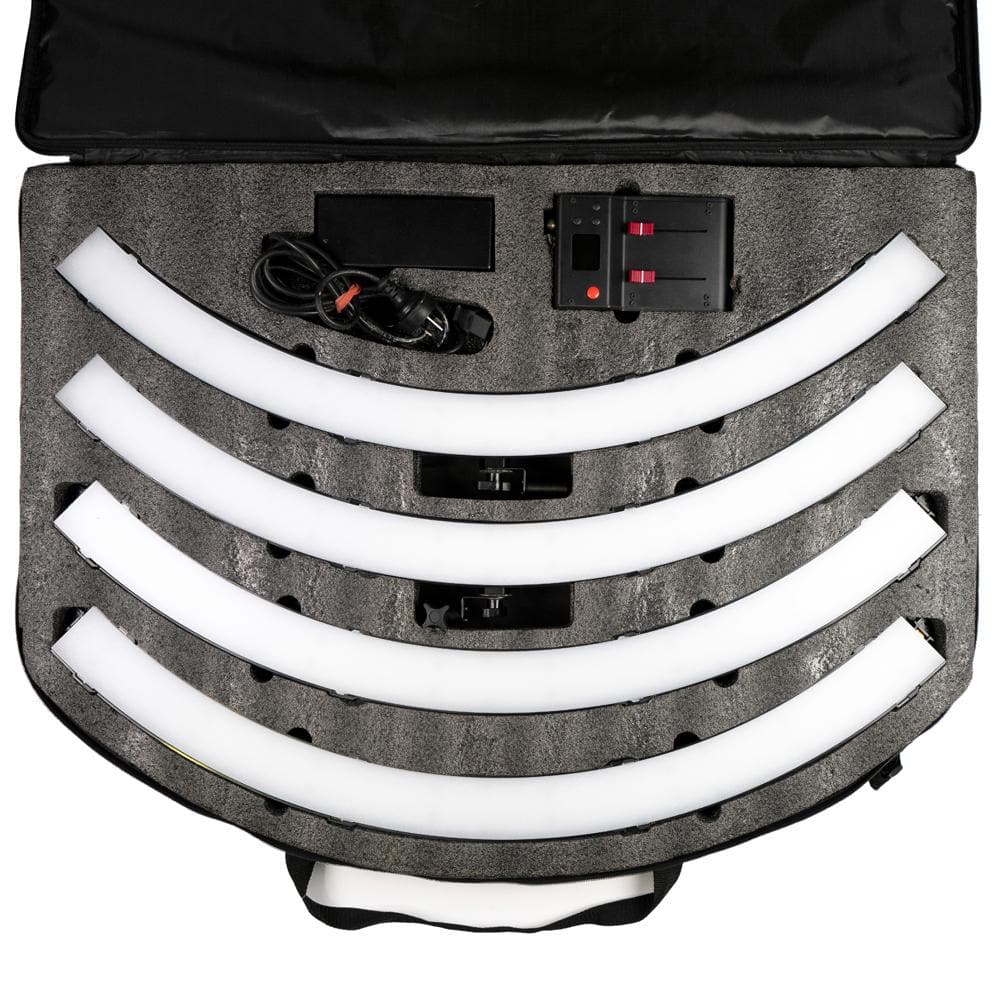 Giant Photo Booth Wedding & Events 47" LED Ring Light - Aurora Max
Own it now, pay later.

Pay in 6. AU, NZ & UK
24-Month AU Warranty

Same Day Dispatch

Aussie Owned & Designed

Expert Advice

Trusted by Pros
Description
The ultimate ring light, our Spectrum Aurora 47" / 120cm AURORA MAX is the biggest ring light in the WORLD! Fully featured with a control panel that adjusts colour temperature and power output. Supported by two heavy duty tripod stands it provides the best possible light for your next event, workshop or masterclass!
The
Spectrum Aurora 47" (120cm) LED Ring Light Kit - Aurora Max
 provides a professional, bright and flicker free continuous lighting solution. With an adjustable colour temperature of 3000k to 5500K, you can choose between a warmer light or to mimic natural daylight by simply sliding the knobs on the provided control panel. No need to change filters!  Its large size is perfect to use at events such as birthday parties, weddings, photo booths, masterclasses, workshops, commercial events, awards nights and more! Create a buzz around your next event with the Aurora Max! It's so easy to create and capture stunning photos and videos to grow your social media platforms, website or even your YouTube channel. Stand out from your competitors and attract potential customers with incredible photos and videos.
Featuring powerful LED lights, the
 Spectrum Aurora 47" Aurora Max 
ring light provides a professional-quality, soft, nearly shadowless and clean spread of light emitting a huge 12,000 lumens per metre and a RA of 95+ (these specs are important for photographers and videographers). As a result, it helps eliminates skin imperfections such as blemishes and wrinkles normally seen in poor lighting, not just for individuals but for large groups of people. So how does it do this? It's all in the design, the unique circle shape creates a 'wrap around effect' casting a soft halo of light on the subject's face. The dimmable control allows you to adjust the brightness to your desired output and effect. Shh, don't tell, it's the secret hack to flawless photos!
We all know that the best lighting is natural sunlight but sometimes we don't always have access to it. Low light situations at your event are not a problem. The large 120cm size provides a natural soft light, mimicking natural daylight and providing a catchlight similar to that of professional photography and video/film soft boxes. It's large size makes it perfect for individuals or groups of people, and with a colour temperature of 5500k, it mimics natural daylight, also perfect for professional make-up artists and beauty portraits.
If you would like a warm, bronzed and healthier skin glow in your photos, you can simply turn the dimmable dial to change the colour temperature! Effortlessly transform the space of your event to adapt to any lighting condition that's thrown your way. It's that easy.
Unlike fluorescent bulb ring lights, the
 SPECTRUM 47" AURORA MAX 
ring light features 1408 individual SMD LED light bulbs and has the following benefits:
- It is rated to last 50,000 hrs whereas fluorescent bulbs last for 5,000-10,000 hrs
- No cool down period. When you are finished you can pack it up
- The Aurora lights are cool to touch so you can keep your cool under the bright lights
- There is no annoying humming or flickering which is common with fluorescent bulbs
The Spectrum
 47" AURORA MAX 
offers a large centre opening allowing you to position multiple cameras, phones or smart devices behind it on a tripod or stand (all sold separately) for easy shooting. Set up a full sized iPad stand, camera tripod or smartphone device bracket for ease of use. Don't have a tripod or stand? No worries! It's so easy to shoot through with all your handheld devices.
Beware of other Spectrum Aurora imitations on the market, the 
Spectrum AURORA 47" MAX

 
ring light provides a full complete kit allowing you to have the full experience of a ring light but on a larger scale! It includes a
24-Month Limited AU Warranty, user friendly control panel, tripod stands and a carry bag all in one kit. So, get ready to meet your new, personalised and portable events lighting solution for your photography or video studio!
It's perfect for: Events such as Weddings, Birthday Parties, Masterclasses, Workshops, Commercial Events, Awards Nights, Charity Events, Professional Makeup Artists, YouTube Content Creators, Professional Tattoo Artists, Videographers / Film-makers, Professional Photographers, Bloggers, Hair Stylists/Salons/Colourists, Professional Aestheticians, Brow and Lash Specialists, Online Influencers, Selfie Lovers, Facebook Live, Instagram Stories, Snapchat, Professional Photography & Video, Periscope, Photo Booths for a special event, Conference Calls,TikTok, OnlyFans, Freelancer, Fiverr, Airtasker, OnlyFans, FaceTime or Skype Calls 
**Please note, photo featured in look book section is for illustration purposes only, please refer to what's included for full kit inclusions** 
Follow the Spectrum Aurora Instagram 
@spectrum.aurora
Lookbook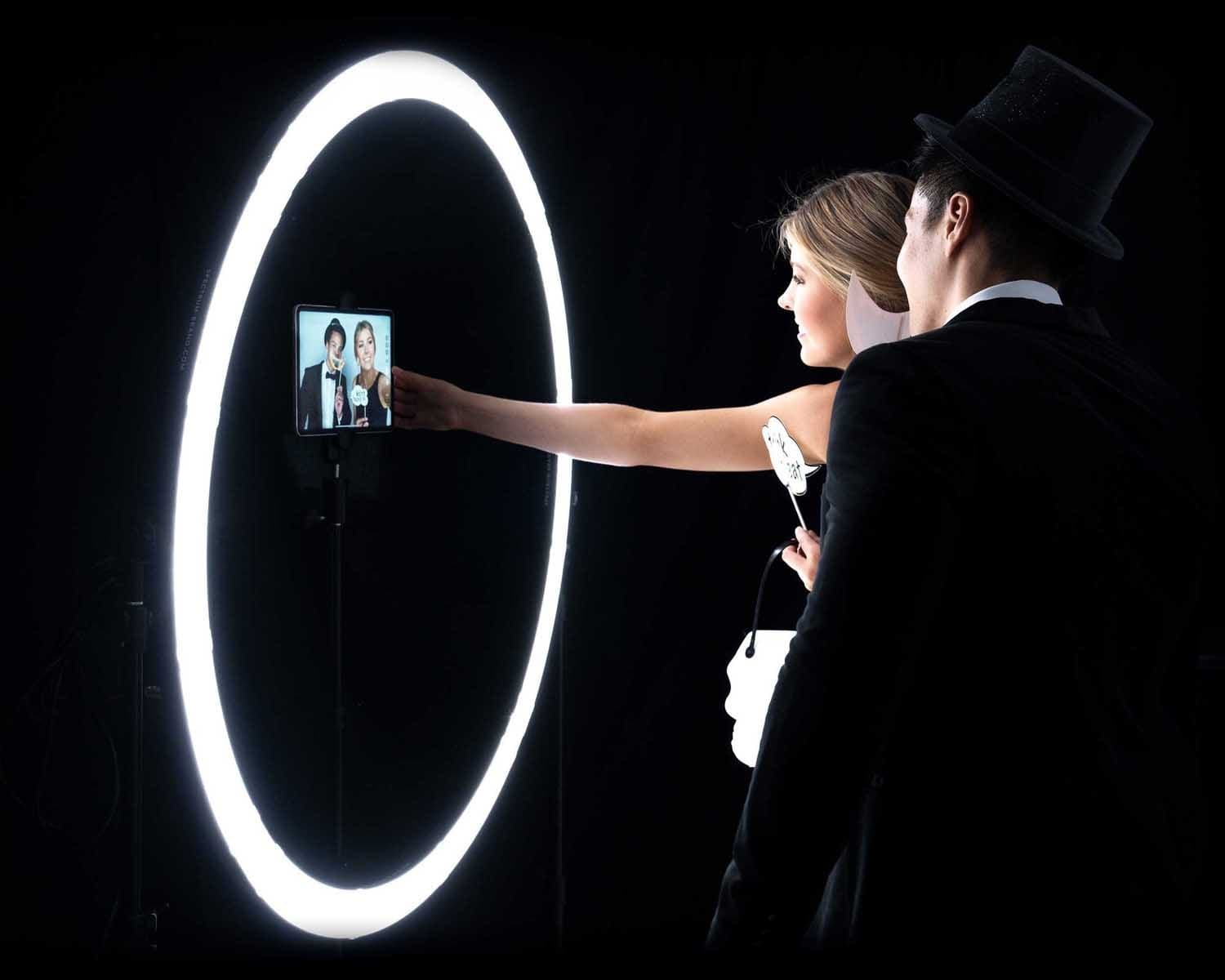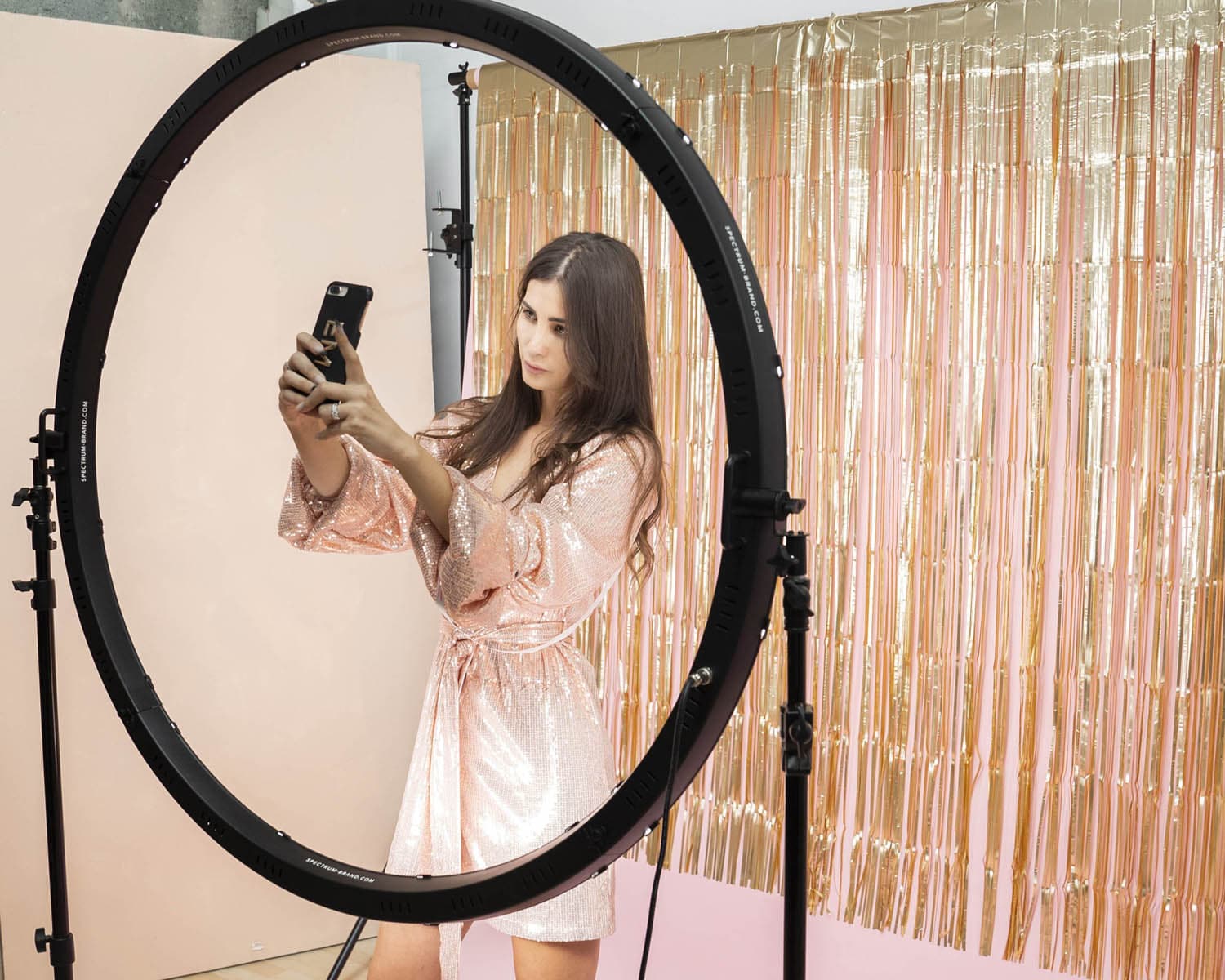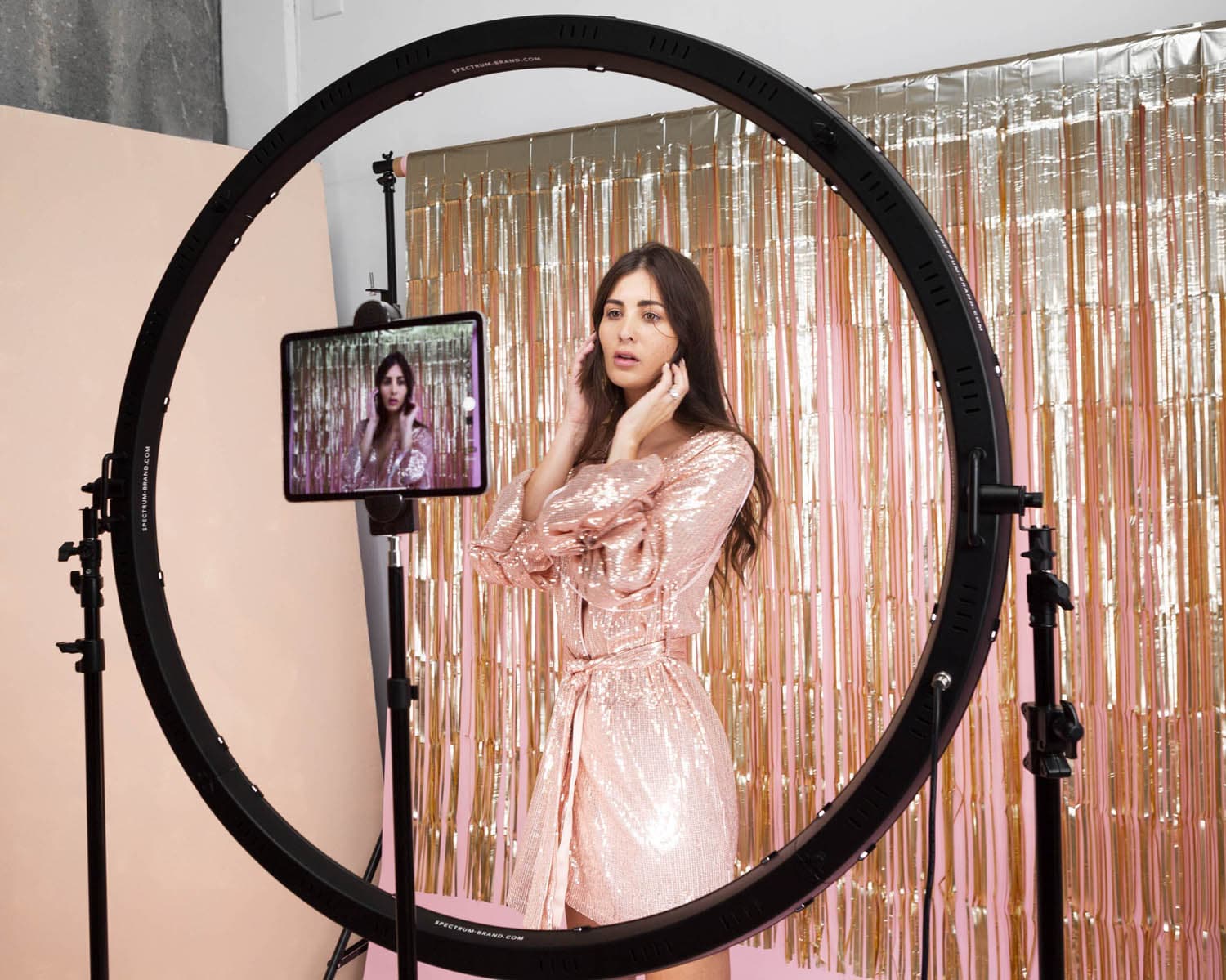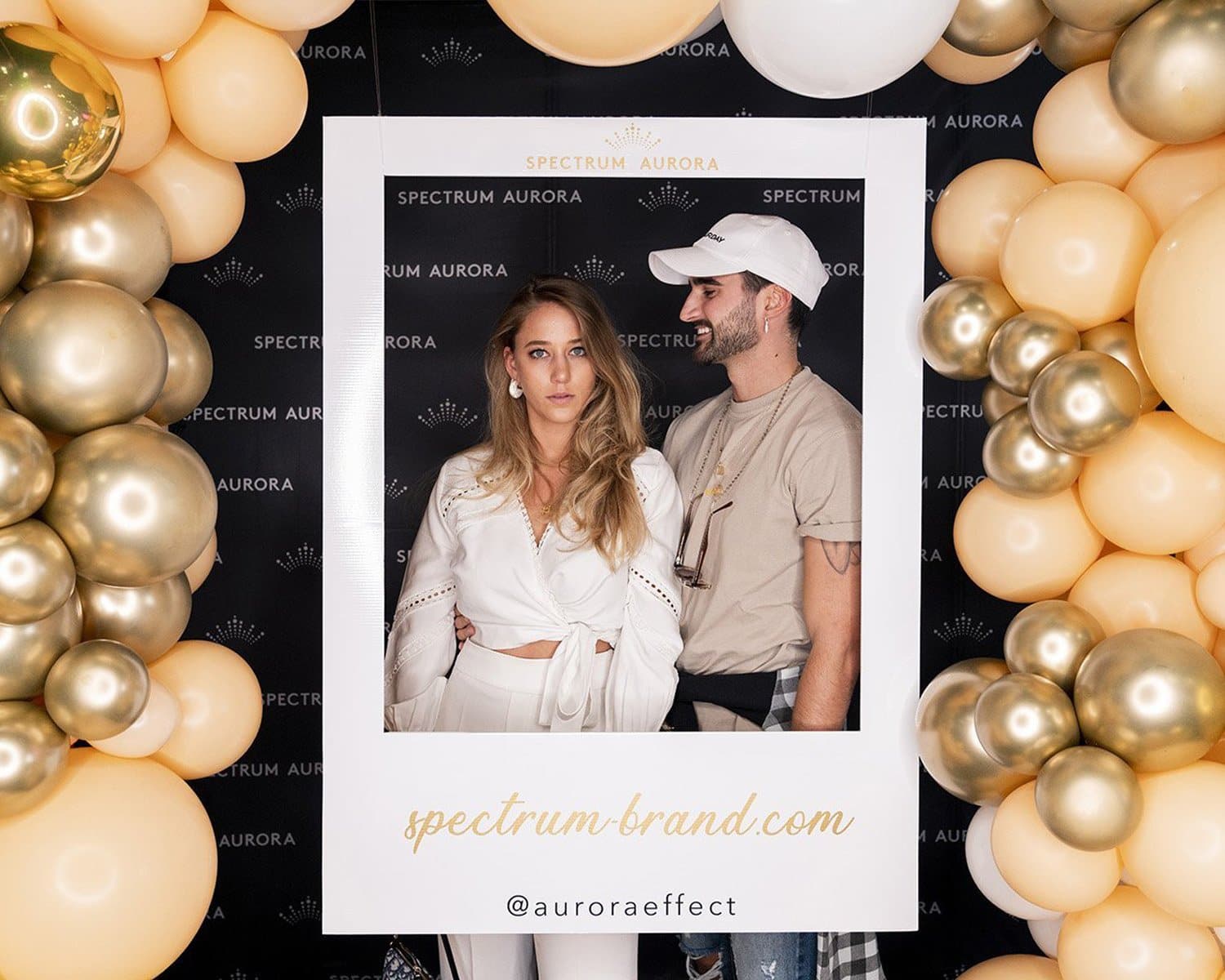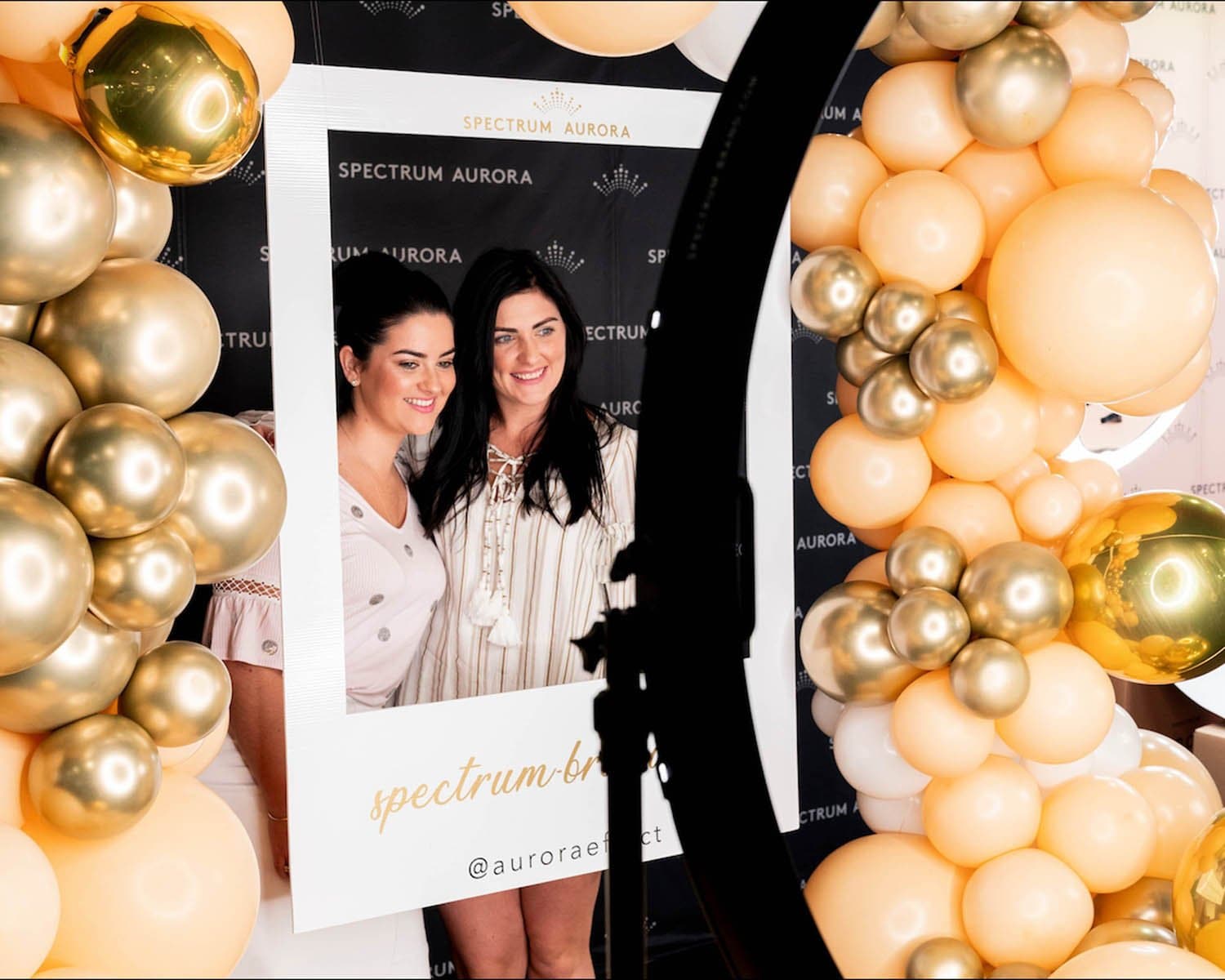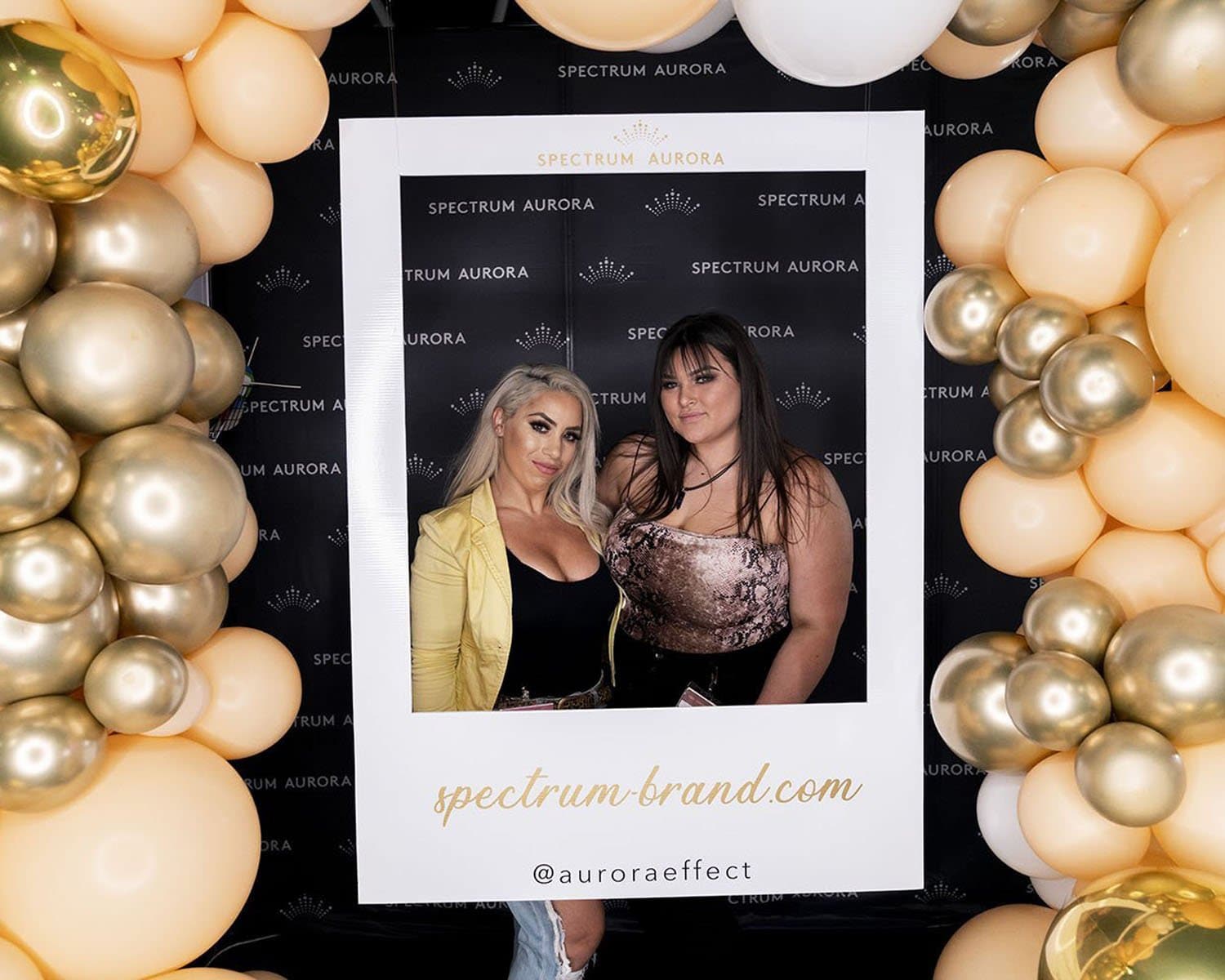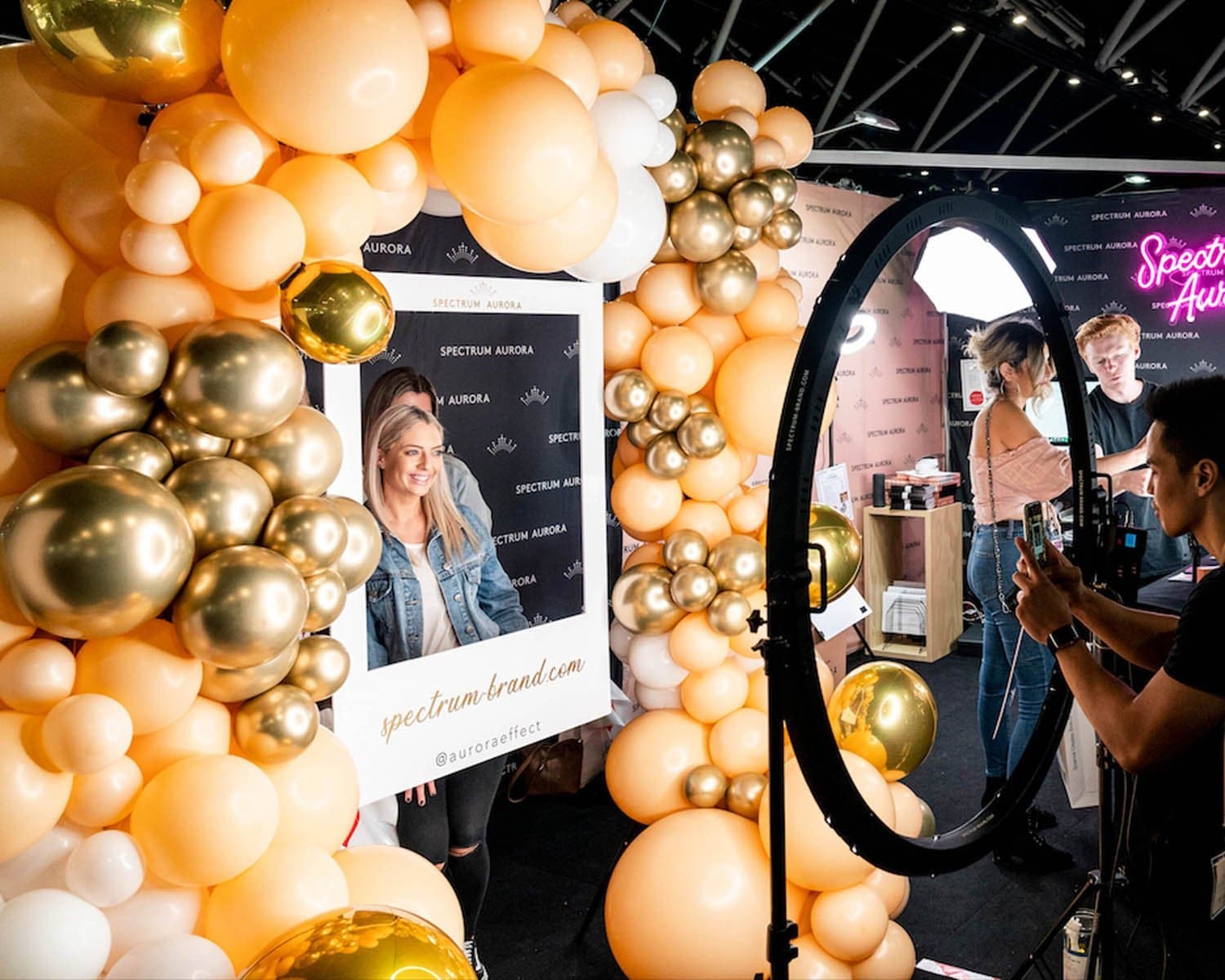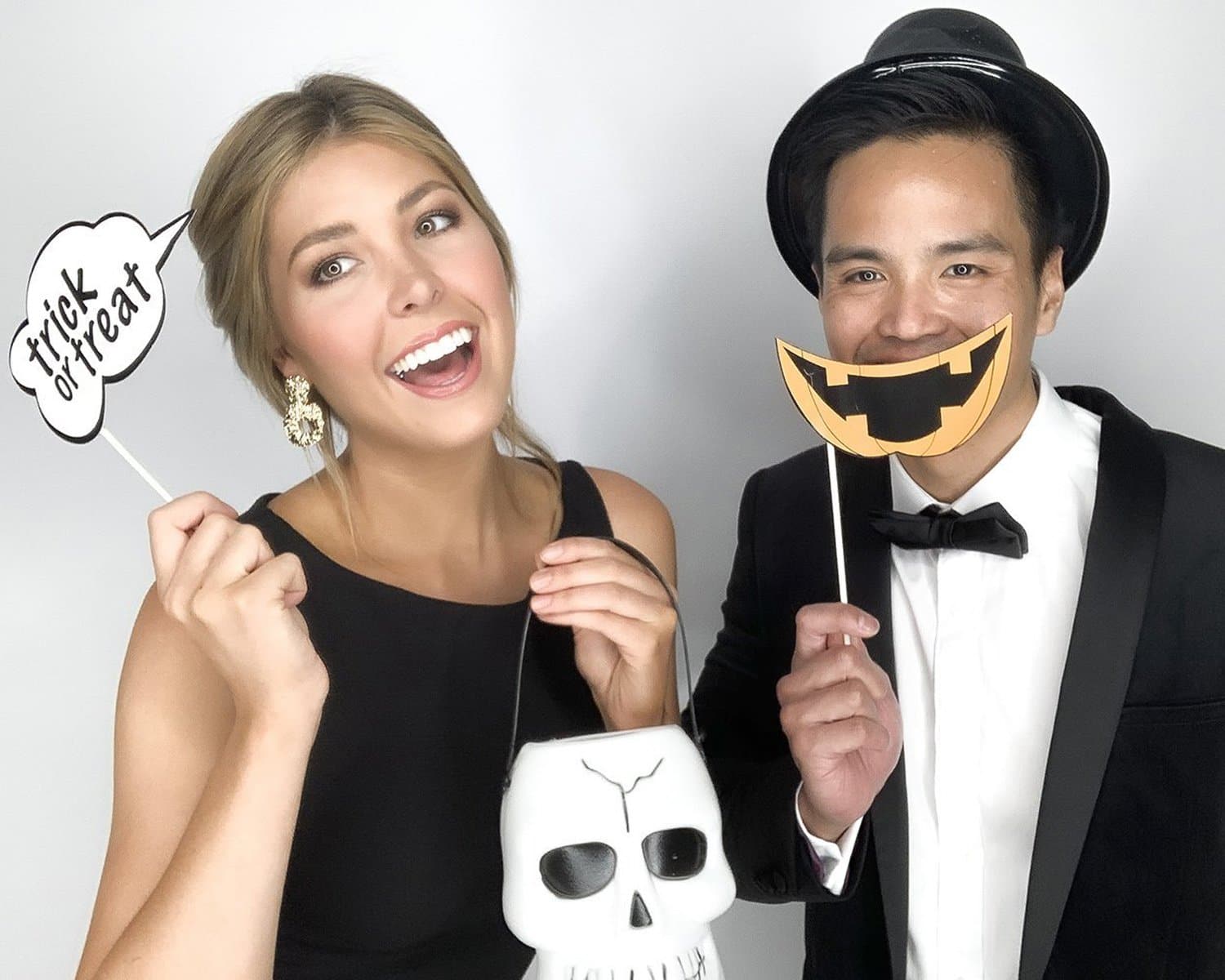 Don't Just Take Our Word For It